IT'S FINALLY DONE! I finally sat down and just forced it out. It flowed a little easier once I stopped trying for nitty-gritty details and just focused more on the emotional side. Easier, not easy. I hope I got the emotional strengths across while still emphasizing how hard they fucked, but it does seem a little short. Nevertheless, I'm sure that more inserts of HaM will come more often with more content as well as more side stories. I have a few in the works but maybe I'll update some of the others like Titanic, Bismarck, Nagato, Yamato (well actually she's kinda locked out right now), or a few others. Regardless please enjoy this long overdue insert of Hansel and Marion.
HaM 52
Their kissing and grabbing intensified as they moved towards the bedroom, suppressed feelings and emotions finally being released drove them into a frenzy, they started tugging and pulling on clothes trying to undress. The quiet house had very quickly come to life in a matter of moments and words. As soon as some article of clothing was off of Hansel it left her grasp, whether it fell or she flung it away it was gone. The taste of Hansel was all she tasted now, nothing else, just his hot fucking flesh! Oh everything about him was turning her on, his muscles, his hair, his eyes! Oh and his height, his hands, his tongue, and his mouth! Oh yes what wonders his mouth does to her, it's so seductive!  Her body shook and quivered with anticipation of his doings, his naughty pleasures, and it could barely keep moving towards the bedroom when she thought of his cock, his massive cock! How deeply he pricked and toyed her, the length, girth, and height made her drool start drooling, oh she knew she was leaving a mess in her wake but she didn't care, she was gonna get dick'd down tonight!
Marion's arms enveloped Hansel and stroked and rubbed and held him all over, her body was warmer than usual and her body was slicker than before. Her tendrils combing through his hair and her arms around him excited him and her intensity ramped up his drive. Her seductive strokes of his body and sex promoted he do the same where he could and her suggestive actions stirred his mind with dirty ideas. All the things she did to him made him ache and long for it physically, her hands on his cock moving up and down his length made his balls sore but she'd always sooth them with a massage, her obsession with his testes is always welcome and relaxing. But when she sucks on his cock his spine shivers and slackens, whenever he watches her work him over with those luscious and beautiful lips he wants more and the gleaming razor teeth excite his adrenaline and made him hyper aware. Her pussy is the cream of the crop, though, her vagina is magical, it does everything her other tools do, but better! It's bleeding warmth, it's plush and holding walls, it's slick and tasty juice, it's gentle suction, and to top it off it's addicting to eat! The most addicting thing Hansel's ever dealt with, he swears that there's drugs embedded into her glands, he's told her multiple times. It's so good, so magical, that when they have sex all Hansel's problems are gone, whether it be a cold, stress, worry, anxiety, anger, it was all gone because of sex. They're left giddy, carefree, and very passionate. He couldn't wait to be passionately carefree with her vagina. Once they got into their bedroom Hansel's turn-ons were amplified, her engine purr reverberated inside his chest and her very skin's touch electrified him. The smell of fuel and the ambient taste of gunpowder stimulated him. Her eyes, her spectacular eyes captivated his gaze and made him want to please them. Her mouth was attractive and captivating, but by far her best feature to look at was her body as a whole, her shapely figure of various angles mixed with a variety of curves just dumbfounded Hansel. And as the temperature rose in the room the extra items came off. Her quick strip left Hansel in a frenzy, not only did the skirts come off revealing that sexy sharp cut for the treads but her extra treads on her cheeks came off, revealing her very blushed cheeks. Hansel's hands instantly gravitated there holding himself to her while they smooched and sweated. Next he heard pins come out, and she slid her actual treads off and slung them into a corner. Everything was coming off. Hansel has never seen her so bare and nude as the grate covers for her intakes popped out, her towing cables, toolboxes, axes, shovels, jacks, clamps, and even the towing eyes were tossed away. Hansel felt he couldn't get hard enough no matter how much he flexed his cock full.
There was a break in the kissing where Marion asked in an excited tone "Are we doing it? All the way?" She looked all over his face but would lock at his eyes for a moment.
"Yes, yes we're doing it!" He looked all over her face and body, she had an absolutely gigantic smile and her eyes gleamed with joy. Her strokes on his cock hastened as she was getting ready to slide him under her. "No, no, I want to see you for it." She nodded and opened the assistant driver's hatch. Hansel climbed in and found her vaginal tendril she snaked up over the back of the seat. He looked into it, it seemed more swollen and throbbing with a puddle of her lube forming at the vulva slit and running down the tendril. He put one kiss on it and felt the reverberations all around him and placed his cock head right at the part and stroked up and down, really getting her to vibrate and shake like an engine. His head quickly was covered in her slick love and his knees trembled with the amazing feeling of rubbing their genitals together. Once it had gotten where he could barely stand and she was gushing out fluids with every pass he backed off and they locked eye contact. They nodded to each other and agreed to do it under their breaths.
Hansel pushes in up to his crotch, Marion flinched and her gaze darted off behind Hansel as she suddenly felt all his length, girth, and heat. His cock was massive, it pushed her insides around and made her feel amazing. All his teasing and stroking had made her suspension tremble and her engine sputter, her gun coil back and her body shudder. She felt the alcohol in their system buzz them and excite them, and their heightened senses and hyperactive hormones elevated all senses of pleasure. He was looking at her questioningly and she looked back at him, panting heavily.
"Marion, baby, do you want this?" She was extremely excited, her hormones and desires and mind was haywire, she couldn't think straight. She nodded and rapidly agreed yes she wanted it. Therefore she sunk her cervix around his cock, breaking it through and they let the massive amount or dopamine swamp them into a heavenly world of ecstasy. They braced on each other and shook, they recoiled from their actions and enveloped each other with their love and lust. The most powerful connection they've ever had gripped them and kept their lust strong and their hearts passionate. Her eyes sparkled through her squinting eyelids with a beauty Hansel admired like it was godly. And his glistening body lured her to adore him religiously. Neither of them could recall ever feeling so strongly about the other, all of their previous spikes of love, compassion, camaraderie, and desire all formed together in this moment here. It seemed like forever they were making love, truly making love, and neither wanted to stop. Continuous bouts of encouragement and praise spurred each other on, and their own pounding wants pushed them to ensure their partner was in as much pleasure as possible. Hansel groped her clit or a feeding tendril while Marion fondled his balls or combed through his thick golden hair. All the while they'd move in for a long kiss, heavy breaths heating the whole house by now, and their genitals starting to sore. Grey veins were popping, fuel tanks drying, muscles throbbing, engines cranking, skin drying and grease steaming. Both were sweating profusely, Hansel never knew that she could even sweat, while Marion gawked at how much she had physically changed him, his skin was entirely a flushed grey-red with all this frenzy. She watched his face start to shrivel up and clench as he came closer to it, her heart raced and her 'legs' trembled in anticipation. His thrust slowed and became more forced when suddenly he slammed his body against the tendril and it happened. She gripped his hair and wrapped all over him, staring into his magnificent eyes as she felt these monstrously huge shots penetrate deep into her. They felt so deep inside her that her core itself felt the stick of his seed. One shot, two shots, three, four, a fifth, each shot also showed on his face as he stared back at her. He watched as her expression was of sexual pleasure and exertion to bewildered enlightenment, pure joy. He gave it his all and pushed even deeper for the last shot to go, he forced with all his remaining strength and sent it even deeper. To Marion she thought he was as deep as he could go, but she was wrong. The last shot blew out her core and replaced it, her core didn't feel like her anymore, she felt him. She quivered and shook and giggled with elation, this was by far the best moment she's had with Hansel. The whole world was just them. Hansel sort of slumped over, being held up by weak arms, and was regaining strength for her turn. She had planned this as the end, thought that the argument was over, and was letting him relax. Hansel wasn't done with her, she wasn't done in his eyes. He was regaining strength so she wouldn't miss this opportunity to come, too. Slowly his thumb began circling the raw bulbous metal-flesh that was her clit. "Hansel, we're done. Rest now."
"No," he said with a sigh, "you didn't finish."
"Hansel please!" Her expression turned to worry. He knew why she was worried, but thought it was a silly reason. Her only argument why she shouldn't cum.
"No, you give this to me, you make me the man I want to be for you. You let me do this." He slowly eased out to his head while pinning her tendril down.
"Hansel it's in!"
"I'll keep it there." He pushed back in, this time angling himself for the spot. He hit a different textured spot of flesh that made her whimper and bite her lip. She looked worried, pleading, and scared, but Hansel was going to show her how silly she was. Show her what kind of man a woman like her deserves.
"No Hansel, please don't, I'm scared-mmmpff!" He kidded her gun as he struck her spot again. He  pushed in and out as fast as he could. His body started to hurt but he ignored it, her whimpers gave away how much she was enjoying it even if she tried to make it sound painful. Her g-spot getting the good dick mixed with the fact it felt like her innards were nothing but Hansel jizz made her really struggle to stay up or hold back from orgasm. He kept getting faster and her whimpers and engine got louder, her eyes darted to and fro, her turret jostling on the bearings and the gun spasming out. Hansel's body was screaming with pain, his knees had been shaking and buckled long ago, only holding himself up with his arms and her jittery arms. Her body just locked up after a while, no movements at all. He kept going, ignoring the pain and hammering that g-spot. His vision was starting to fade when suddenly her eyes rolled back and her entire entity shook and thrashed about. She came and sprayed herself like a fire hydrant. She came and sprayed for two minutes easy. Piercing moans and whimpers shook the home and probably bled into the night sky. She sprayed so much it drenched Hansel head to toe, splashed all over her cabin, soaked the seats, soaked his hair, splashed up his body, off his chest, into her huge gaping mouth And onto her gun and face and deck. The whole time still thrashing like she was possessed by demons. Everything stopped and calmed when Hansel felt a sudden drop coupled with a huge crashing and grinding noise. Amidst the unhealthy sounding engine noises was her muffled whimpering, deep hot heavy breathing, extreme vent action on her stern, and cooling engine noises-absolutely everywhere, and some ringing in Hansel's ear. He collapsed with her and slumped on her deck in a pool of their drool and her lovely tasting cum. She blinked very slowly and suddenly her eyes were back, staring down into his.
"I love you."
That's all they said for the longest time. They ensued in holding hands and rubbing their thumbs over each other's lovingly. Then they broke silence again.
"Is it still there? Marion?" She took a deep breath.
"Yes, baby. It's still in there. All of it."
"I told you it was silly."
"I guess it was. I was just really scared I'd cum it all out, baby."
"We've had sex dozens of times and it never came out, honey. Why would this be different?"
"I guess you were right, Hansel, baby."
"You were just being silly, honey."
"This is the first time we've had sex in what? Five years? It was amazing, better than ever. You really are the man." They closed their eyes to sleep in this hot mess they made. Right before they passed out Hansel grabbed her chin and drug his head close to her body, so close his nose was buried under the turret and he whispered to her:
"You are the most beautiful thing in the whole wide world."
Marion was finally pregnant.
Fin 52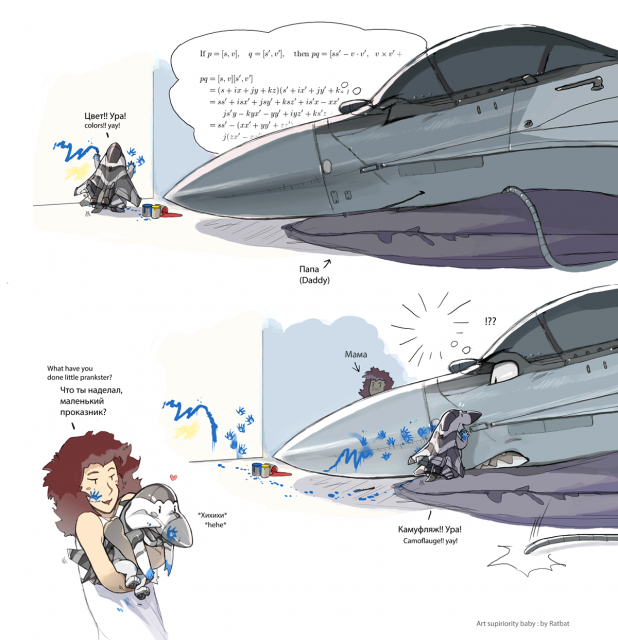 More sukhoi baby action now with oil paints!