Final Boss of the comic: Neodym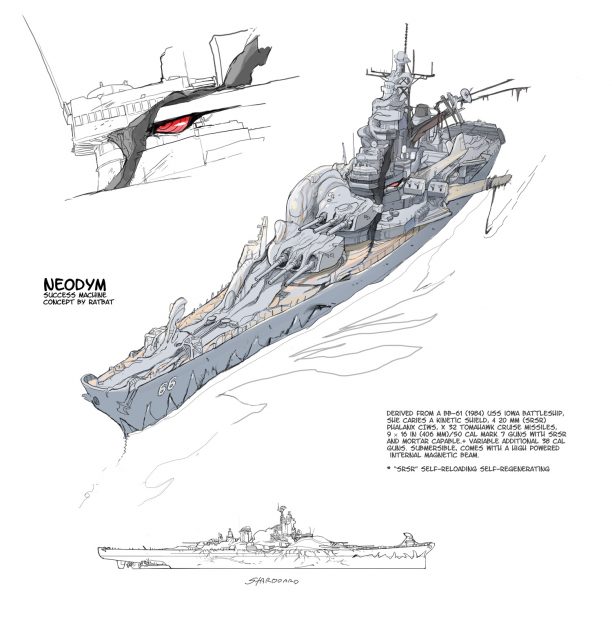 This Success machine is rather complicated and is part of the final part of my comic.
The Concepts: 1. Bleeding matador bull + cancer + Cannibalism + millipede + Magnet?
So do to the complex nature of this machine, I decided to base it directly on a photograph by sketching over it and keeping some aspects while removing other aspects. The intent is that the original picture wont be around after I'm done, so its mainly a time-saving measure. In any case, Picture if you will an Iowa class battleship who has mutated into a Success machine. Ive been asking around what might look cool for this concept.. So far playing with the idea of making the turrets gnarled warped and with different sized guns. Playing with the idea of this she-boat using various wreckage as band aids to heal. Thusly "the tails of airplanes" poke out off the deck, maybe other radar towers or pieces from dead ships poke out like spikes. The Guns in the front are overtaken by what looks like a huge cancerous mass of nano machine roots and brambles. haven't decided if I should just keep the original size of the guns and offset the turrets a little.. or warp and mutate the turrets altogether.
Update: Decided to scrap the idea of millipede legs and "Yamato crab" legs altogether (the logistics of her biting people on land was getting complicated). Instead we will put more emphasis on her magnetic tractor beam power. She can simply pull people into the water towards her bitey open maw.
Half the battle will be defeating her kinetic shield, the other half of the battle will entail infiltrating her body to destroy her heart- the engine. This may or may not require a large bomb in of itself. Once her mouth is open, a High powered magnet comes into effect.. I may not have room to showcase this power tho.   In the meantime ive just been calling her "Neodym the cancer boat"