© 2015 DELTA X3
             -Personal journal entry 451: 8 May 2022
I took leave for the week to see the Victory Day parade in Red. They're having a preview day where they will be having static displays of a lot of the vehicles and weapons systems that will take part in the Parade tomorrow. Being an American in Moscow at the moment isn't the easiest thing but I can speak the language and I'll have Leonid with me in case any problems should arise (he's ex-Spetsnaz). Pretty excited for the parade tomorrow, from what I've been told it's quite an event.
"Leonid!" Chase shouted trying to find the only person he knew in this massive crowd of people. The two had been separated by a mob of people swarming across the square leaving him almost alone amongst the aircraft on display in the square.
"Loose something American?" He heard a female voice say from behind him.
'Was it that obvious?' he thought to himself. Alone, he hesitantly turned around expecting to be verbally assaulted yet again and this time without Leonid there to get the assailant off his back. To his amazement it was not in fact a "person" at all but one of Russia's Mi-24P attack helicopters, one of the "living machines" as they had come to be called. This was not his first time encountering one but somehow they always managed to surprise him and this time he stood face to face with a mighty Hind.
"You looking for someone?" she repeated as he caught himself staring at her.
"Yes umm. Da" he tried piecing together his best Russian "Leonid Melonivich, white, 1.9 meters" his voice tapered off as he realized how futile it was trying to describe him to a stranger.
"We can talk English if you like, mine is not bad" which was true despite the thick Russian accent "I do not get to practice much but I will try."
Chase was relieved, she seemed friendly. He was intrigued, this was a Hind, an extremely effective attack helicopter and a personal favorite of his and now one was having a conversation with him. A difficult thing to wrap his mind around to say the least.
"I lost the person I came with in that big crowd"
"He's probably over looking at the new Ka-113X with everyone else" she replied, her mood souring a little "you could go and watch the demonstration and find him"
"I'd rather not, too many people and I've seen the 113X on the internet and I don't really like the look personally. I'd really rather wait here and talk to the first Hind I've ever met" she seemed to perk up a little "I'm guessing you don't like the 113?" he said.
"No, I guess I'm just a little, how do you say it, envious" she said, a little embarrassed that she had been so transparent "It's just that it's the 113's first show and it's my last, they're retiring me after this year. The golden eagles will be all Havocs after this one"
"I don't see how they could do that" Chase said "you're a legacy, the foundation of Russian attack helicopters. Mi-24s are without rival the best and definitely best looking helicopters they've ever made" he noticed he had begun to get over excited but then noticed what else he had done. This was one for the books, he had actually made a Hind blush, or the machine equivalent.
Their conversation carried on for over an hour ranging from war theory to personal past, to preferred ways to un-jam a DshK. Her name was Anya, last remaining Hind in service in the Russian Air force Golden Eagle aerial show team. He couldn't help but feel bad for her every time she mentioned her imminent retirement. Were it his choice such a prize bird would never be forgotten.
He noticed a figure walking towards them "There he is" Chase said "it's an honor getting to talk to you Anya, I wish we had more time."
She paused a second considering something "If you want a more personal tour you could come to my hanger tonight."
"Definitely" he replied concealing his excitement.
"Go to the Barrikadnaya Metro station at Midnight"
"There you are!" Leonid exclaimed in Russian as he approached the two "don't get lost like that, can't have you getting mugged." He joked,not acknowledging Anya which wasn't uncommon in Russia, the living machines were not held in the same regard as in the US, they had yet to really accept them as more than the machines they once were, a growing point of friction in the State Duma.
"Let's go, the party isn't going to start itself." and the two walked off. Chase hoped she was getting at what he thought she was. It was either that or he would get to the meeting spot and there would be a van of masked men with black bags waiting.
-Personal Journal entry 452: 7 May 2022
So I've been invited for an evening with a Mi-24 Attack helicopter named Anya. Crazy right? I don't know what she has planned but I'm hopefully optimistic. It could be the FSB trying to nab up an embassy guard but that's not likely… I hope."
Chase stood at the metro entrance, wrapped tightly in his "soviet special" double breasted overcoat and off brand beanie. Leonid had advised against him going out alone at night but this was worth the risk, an evening with that helicopter.
The street was nearly deserted when he saw a set bright lights coming his way accompanied by the roaring of a heavy engine. Breaks squealed loudly as the BRDM 2 scout car came to a rapid stop in front of him. "Are you Chase?" a voice said in Russian. It took him a second to process it but the voice came from the vehicle itself. 'Another living machine?' Chase thought to himself, two in one day was quite a stretch but at least it wasn't a black van with head bags. "We haven't got all day crawl in, Anya sent me."
Chase nodded and crawled up the side of the armored car and into the side seat.
The machine had a rough deep russian voice "I am Vadik. A friend of Anya's"
"She sent you to come get me? Where is she?" a few hundred dollars of language software finally paying off.
"Believe it or not American, this may be Russia but landing a helicopter in the middle of a street draws attention here also."
Chase nodded, thinking of it now, it made sense.
"She is at the Kubinka air base."
"How do you know her?" He had to shout, hardly able hear himself think over Vadik's engine
"Her and I have been at Kubinka for a long time. My model has not seen combat in a long time so I just pull planes around. I once pulled an An-225 solo" personal pride filling the scout car's voice. "It shouldn't be too long before were there, put on the helmet if you value your hearing."
They drove for just over an hour until they reached the airbase.
"Stay quiet." Vadik said as they rolled up to the gate. A guard stepped out of his box. "Open the gate you drunk Siberian bastard!" Vadik shouted at the guard.
The guard casually walked to his front raising his chin in defiance "And why should I let you in you old hunk of scrap metal?"
"Because if you don't I'm going to run you over and use you to paint the runway."
They both stared at one another for a moment then erupted in laughter "Get your ass out of here before you rust all over everything." the guard replied as he hit the button opening the heavy metal gate. Vadik's engines roared as he rolled through the gate.
"alright we're in" Vadik said his tone becoming serious "just be careful who you tell of this, whatever you two do, remember that in Russia any relations between two Living machines is forbidden and even more so between the living machines and humans."
They drove through the open door of a well-lit hanger and Chase climbed out. There she was, he hadn't been able to take his mind off her all day.
"Chase! I'm glad you came!" she said smiling as he jumped down. "Thanks for this Vadik."
"No problem, anything for you krasavitsa." Vadik said backing out.
Chase stood there looking at her unable to wipe the cheesy smile from his face.
"I wasn't sure you would actually come. I can't tell you how glad I am you did." she said smiling at him "I got something for this evening" she motioned to a table with a tall glass bottle of Plinkova Elite Vodka.
Chase walked over and picked up the elaborately simple bottle "Isn't this stuff like 800 dollars a bottle?"
She nodded "Da, Russians make the best vodka"
The bottle hissed as Chase broke the seal. Slowly he poured he poured the clear liquid into the glass and put it to his lips. At the first sip the elite quality of this vodka was evident.
"You like?" she asked.
"I've never had anything this expensive before, it's amazing."
"I'm glad you like it."
"So about this personal tour, what exactly does that entail?"
"What do you want to see?"
Chase took off his overcoat and gloves and placed them on the table "You don't mind if I get more comfortable, I've never toured a hind and I take my tours very seriously." This made her smile. He finished the glass of vodka as he loosened his tie. She shifted anxiously as he began unbuttoning his white undershirt. Two hours a day at the gym had finally paid off, showcasing for Anya a toned fit physique.
"You take care of yourself well." she said "The human body is such a beautiful thing, it's a shame you all keep them covered up."
"We don't have the benefit of armor plating" Chase replied slipping out of his trousers.
She licked her lips as she looked him from head to toe. "In Russia it's difficult for a vehicle to find a human willing to take the risk of being caught with a machine but to find one like you is beyond dreaming. Is this more common in America?"
"It's not against the law like it is here. People have come to accept machines but most would still not have intimate relations with a machine, just us lucky few who see the beauty in the machines we meet."
"So tell me have you been with machines before?"
"A few" he replied.
"You know Chase" she said "This may be my last chance for love, I don't know what they have planned for me after this parade is over. So do this one thing for me. Make love to me, make love to me like you never have before." She sounded almost desperate for it and this was a request he would most willingly grant.
He slowly walked up to her and took a knee moving his mouth to hers. He was amazed, her lips were soft and smooth not at all what he expected of an armor plated helicopter like her. Her lips parted as he pressed his to hers and could already feel the warmth of her mouth as his tongue entered and was met by hers. Her hot breath was against his face as he tasted her tongue. Her mouth had a metallic sweetness to it a taste he quickly came to love. It was a wonderful feeling kissing this helicopter.
She could have easily covered his entire face with her tongue but she wanted him to enjoy this as much as she was so she just allowed the end to dance with his, occasionally allowing it to slip into his mouth just a bit and feel around the inside of his lips and cheeks then even deeper into his mouth. She had to make sure not to go to deep remembering humans used their mouths to breathe.
Chase was intrigued by the taste, it was intoxicating and strangely addictive causing this kiss to last for over ten minutes of oral exploration. He had to be cautious of her razor sharp teeth, she was a predator after all, and a dangerous one at that, but also one who had chosen him to be a lover for the night.
A few seconds of deep breathing were required for Chase to catch his breath after they broke contact. She enjoyed humans, there was something more to them than making love to a machine. They were soft and flexible and had an interesting taste to them, a taste that she indulged herself with every chance she got. Long slender mechanical tendrils extended from her underbelly, supporting him as she leaned him back. She extended her heavy gray tongue, putting it at his belly button and slowly began drawing it up his body, over his chest and along the ridge of his neck finally ending at the tip of his chin. She rolled her tongue back into her mouth savoring the taste "I'm going to enjoy this."
She let him return to his feet "Is it customary in America to start with oral?"
Chase laughed, she had been watching too much American porn. He went over and grabbed his overcoat from the table and laid it on the ground "Is it customary in Russia to return the favor" he said removing his boxers and laying on his coat, propping himself up on his elbows.
Seeing a Mi-24 bearing down on you with such deliberate intent is a profound experience and an experience seldom survived, then add a set of eyes fixed on the target, ready to strike. Anya bowed down on her front landing gear, raised her tail end in the air and moved in between his legs. She slid her tongue up along his inner thighs allowing his package to rest momentarily on her tongue and licked all the way up his shaft until the tip of her tongue met the tip of his erection then took the whole thing in her mouth. He let his head fall back closing his eyes as she began to work magic with that tongue of hers.
"Mmmh you're good at this." Chase said leaning up and rubbing his hand on her cheek as she kept at it. He'd been with a couple cars, a battle tank, an IFV and a rather peculate Mig-35 but there was something special about having this Soviet era warbird in his lap. This was a different level of enjoyment. "Whoa there, let's not end this before it ever get started. Now it's my turn." He pulled himself from her maw a string of thick airplane saliva trailing it.
"Step back" she said "let's make this more comfortable". With a whirring of servos her rotors shifted, moving until they all pointed to her tail, locking in place with a series of mechanic clicks. Then to Chase's surprise, folding her wing under she rolled onto her side, exposing her tender gray underbelly.
"You know how long I've wanted to be with a Hind?" he said as he ran his fingers along her belly feeling her body, admiring her unique form. Occasionally he felt the sanded over indentation of a bullet impact. In this vulnerable position he had almost neglected to remember she was a seasoned veteran of combat the world over.
"Even before machines came to life I was in love with them, I wanted one to hold for myself, to touch, to feel, and now I'm here about to make love to one." He came to a stop between her landing gear feeling the soft wet lips of her vagina. This was it, his dreams would come true tonight with this bird. He knelt down and could already heel the heat emanating from her and the droplets of fluid at the edges indicated she was already aroused. Slowly he closed his eyes extended his tongue, moving his face closer and closer until his tongue met the wet lips of this Hind's pussy. He could begin to taste her as his tongue penetrated. It was glorious, he had to open his mouth to allow his tongue to enter to its fullest then, closing his mouth he began to suck her tender lips, his tongue writhing about as trying to find something in the dark. He could feel Anya, a full size gunship, begin to squirm as he went down on her, making out with her nether regions. She could feel every movement his tongue made inside her sending intense bolts of pleasure through her nervous system. He then pulled out a littler and began running his tongue slowly up and down the length of her opening, her hot grey fluids seeping into his mouth making him light headed as the chemicals in her fluids interacted with his physiology causing his body to vamp up the production of endorphins which made him slip into a state of euphoric bliss as he continued to service her. Feeling her soft synthetic tissues against his skin was increasingly arousing causing g drops of pre cum to fall from him onto the wheel of her landing gear. As soon as he was satisfied with his work he withdrew from her, his face covered in her lubricants, thick drops dripping from his chin.
"I don't think you're done yet" she said, throwing courtesy to the wind and grabbing his head with her tendrils, tilting it to the side and forcing his face into her vagina, sinking his mouth chin and nose into her. He willingly played along, his tongue lapping at her sensitive insides. Anya bit her lip to stop herself from yelling aloud, this was a special treat for her and knew she could get away with it, she could tell he was deep within her thralls.
She released him "So how did you like that moy lyubovnik?" she said as he caught his breath. He just smiled at her, his face glossed with her lubricants.
He came to his feet. He would make her pay for that and pay dearly. "Oh, you like games do you, well try this one on for size." He took the fingers of his left hand and began massaging her clit immediately rendering her incapable of saying anything further as she groaned with pleasure. He took his other hand and began rubbing it up and down the opening of her dripping wet pussy. "What about this" he said as he grasped her clit between his palm and fingers rubbing it vigorously. She wasn't able to hold it after this and let out a deep moan of pleasure. Fearing someone might hear her she quickly stifled herself, gritting her teeth together. Now, satisfied with his work he decided it was time for the good part.
Removing his hand from her clit he fed both hands into her slit and began massaging both sides "Anya, are you ready to get this started". With a smile she nodded. Using both hands he spread her lips apart and placed his rock hard cock in the opening then let the sides go, her engorged lips slapping together on its length. He put one foot on the wheel of her bottom landing gear and grasped the bar of opposing landing gear for support.
Slowly he pushed himself deep inside her until his waist squished against her pussy, feeling the warmth of her wrapped around him was like nothing he had ever felt before. He moved in and out of her with such ease. Slowly pulling half way out then going as deep as he could, repeating the process over and over, going gently on her. Using his free hand he started playing with her clit and again she began to moan and squirm. 'Well, Hinds do have a weak spot.' he thought to himself.
He was amazed by her level of resistance, any normal girl would have come by now, even a machine. Thinking about it he was surprised he hadn't yet either, so far the sex with her had been heads above the rest. Female machines had a unique aspect to their reproductive organs.
The inside of the vagina was laced with millions of adaptive nerve dendrites that would provide her the same amount of stimulation from Chace's human member as that of a girthy T-90 tank.
"Are you going to play around all night or are you actually going to fuck me" she said beckoning for more "Trust me you can't hurt me, do your worst, fuck me as hard as your heart desires." Chase accepted her challenge and kicked it into high gear "As you wish my dear." Thrusting as hard as he could into this gunship his waist slapped against her underbelly, drops of sweat rolling down his back as he proceeded to make love to her with an intensity she had never experienced from a human before. He used every bit of strength he had to give her exactly what she wanted and was satisfied to gear her moans of pleasure echo through the empty hanger. Her tendrils embraced him holding him tightly to her body one running its manipulator "fingers" through his hair.
He didn't want this sensation to end but he could feel the climax coming so he slowed his thrusts hoping to delay the inevitable. His grip on her landing gear tightened as the tremors of the climax began to shoot through him. "Chase don't fight it, cum in me". The both of them could feel this climax coming, Chase had no idea how but somehow he could tell, as if he could feel what she was feeling. As he felt the climax arrive he felt something new something he hadn't felt with any other machine or human he had been with. The feeling was like nothing he could describe. It seemed to spread across his entire body occupying every fiber of his being. He wondered if this was the bond that he'd heard of. It had to be, nothing else could explain how he felt in this moment. He could already feel somehow connected to her and a desire to be intertwined with her forever. His body quivered as he deposited his entire load inside her. He could feel her airframe shake as she to felt the intensity of the orgasm they seemed to be having together. Unlike him she knew what this meant, the two would be bonded, the touch of another would never feel the same, and they would long for each other every second of the day. This would make their separation unbearable but it also meant she had finally met someone compatible with her, what humans would call a sole mate.
Chase could hardly stand, his head still clouded with euphoria, her fluids slowly rolling down his legs as they separated "was that…" he said running out of breath half way through.
"Yes, I believe it was moya dorogaya"
"What does that mean?"
"That we were made for each other"
It took him a minute to process this. She released him from her grasp "So did you enjoy that" she said moving back onto her landing gear and turning to face him once again.
"Anya, there aren't words in either of our languages to describe what I just felt." He said walking to her face and placing a kiss on the glass of her cockpit.
"So the real question is are you ready for round two?" She certainly was relentless.
After two hours, three climaxes and every ounce of energy between the two they fell asleep on a mattress they had stolen from a crew ready room.
Chase awoke to the roar of a flight of Migs taking off on the runway just outside. The early morning sun bathed the inside of the hangar in bright light, forcing him to squint as he looked around the hangar. It was difficult to remember if last night had actually happened or not but he could feel a weight from something pressing on his body. It took his eyes a moment to adjust to the light and what appeared to be a Hind came into view. Anya had fallen asleep with her chin resting on his chest. He couldn't bear waking her so he just watched her sleep, glad last night hadn't been just a dream.
He heard the hangar door begin to slide open sending panic through him and rousing Anya from her sleep. What would someone say if they walked in on him laying naked with the Hind. Let out a sigh if relief when he saw the angular hull of a BRDM 2 roll through the door.
"Good morning Vadik." Anya said pleasantly as he closed the large door behind him.
"Anya" he said a sense of urgency in his voice "your aircrew just came through the gate, we'll have to get him out of here before they get here which is about 15 minutes."
"Looks like there's no time for a long goodbye" she said to Chase as she moved off him "I hope this isn't the last time we'll see each other." there seemed to be a hint of a question at the end of her sentence.
"I'm going to visit you every chance I get." Chase said redressing himself and wiping away the remnants of their love making.
"I hate to break you two up" Vadik butted in "but we have to find a way to get him out of here. They're doing the checks at the gate both in and out because of the parade. We've been having officers and state officials arriving all morning so security is tight."
Vadik and Anya stared at Chase trying to create a plan on how to smuggle him out.
"You know who he looks like…" Anya said.
"Don't even think it." Vadik replied.
"Admit it he looks just like him."
"What are you two talking about?" Chase said a little confused.
"Anya thinks you could pass off as Minister Milonovich, but bad idea, very bad idea." Vadik said.
"Well it's either that or have him go to the gate guard and say" she switched to a sarcastic accented english "Good morning comrade gate guard. I just snuck onto your airbase to have a booty call with one of your helicopters. Would you be so kind as to let me out?"
"Anya, you're lucky you're my favorite. Alright Chase grab that vodka bottle, get in, put your collar up and don't say anything." Vadik said turning to Chase "Try to act hangover. Minister Milonovich is known for being a drinker."
"I guess I'll see you at the parade today." Chase said looking to Anya.
"I'll be watching for you. After the show I'll be doing display again come see me then." Anya said. Chase could tell she didn't want to part but then again neither did he.
They stared into each other's eyes for a moment "A kiss for good luck"
"Knock em' dead Anya" He said then giving her a lingering kiss before being broken up by Vadik. "Alright you two we have to go." Chase reluctantly got in and they exited the hangar.
They approached the exit gate which was manned by a different guard than the night before "Now where are you going?" the burly guard asked as they approached.
"Red square, I have a discrete VIP."
"Who?"
"That kind of defeats the purpose of discreet."
The guard returned an armor splitting glare.
"Whatever, see for yourself."
The guard slung his AK and crawled up, peering in the crew area. Chase was propped up against the side, appearing to be asleep with the bottle of vodka in his lap. The guard was surprised at who he thought he saw but not surprised as to why he would chose a more discrete mode of transportation such as this "Alright carry on."
The heavy metal gate screeched open and they exited.
"Thanks for everything Vadik." Chase said sitting up straight in the seat. "You seem to be a sort of care taker for her."
"I take care of all the living aircraft at Kubinka. Anya can be impulsive from time to time so I have to help her out with things sometimes. She's still my favorite though."
"Have you and her ever…you know…"
"Once or twice, we all have needs."
They stopped a few blocks from red square where he was to meet Leonid in an hour "I doubt this is the last time we'll be seeing each other so until next time dosvidaniya."
Chase gave him a nod as he departed, Anya still on his mind.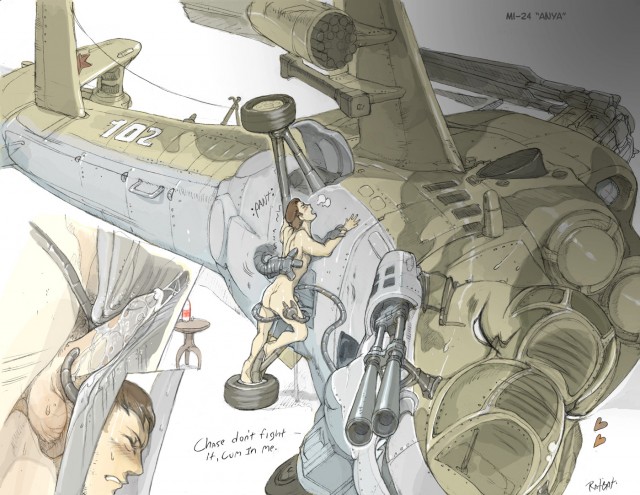 ---
A song came up that I thought very fitting for this story.
https://www.youtube.com/watch?v=QnyJche97_E
English translation
Dark eyes, burning eyes
Passionate and splendid eyes
How I love you, How I fear you
Verily, I saw you at a sinister hour
Dark eyes, flaming eyes
They implore me into faraway lands
Where love reigns, where peace reigns
Where there is no suffering, where war is forbidden
Dark eyes, burning eyes
Passionate and splendid eyes
I love you so, I fear you so
Verily, I saw you at a sinister hour
If I hadn't met you, I wouldn't be suffering so
I would have lived my life smiling
You have ruined me, dark eyes
You have taken my happiness away forever
Dark eyes, burning eyes
Passionate and splendid eyes
I love you so, I fear you so
Verily, I saw you at a sinister hour
---
© 2015 "DELTA X3" Account owner
All rights reserved. No part of these works may be reproduced, distributed, or transmitted in any form or by any means, including photocopying, recording, or other electronic or mechanical methods, without the prior written permission of the author.